When trying to find the perfect property, it's unlikely that a lovable street name takes top place on anyone's wishlist. Yet after analysing the selling history of houses on adorably named streets across the UK, the evidence shows that a pretty postal address is enough to influence house buyers to spend a significant amount more money on securing a charming address.
Using Rightmove's database of UK sold price properties, we searched for the cutest street names in the UK to find the average selling price of homes on that particular street. We then found the average selling price of an adjacent street to work out the value difference between the two.
For every adorable street name researched, the average value of a house on that street was significantly higher than the neighbouring streets – showing that house buyers are happy to spend some extra money for an address that makes the postman smile!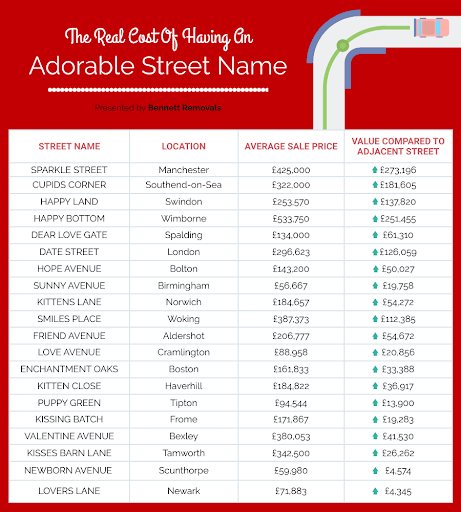 | | | | | | |
| --- | --- | --- | --- | --- | --- |
| Street Name | Location | Average House Price | Adjacent Street Average House Price | % Difference | Added Value |
| SPARKLE STREET, M1 2NA | Manchester | £425,000 | £151,804 | 179.97% | £273,196 |
| CUPIDS CORNER, SS3 0AX | Southend-on-Sea | £322,000 | £140,395 | 129.35% | £181,605 |
| HAPPY LAND, SN6 6PN | Swindon | £253,570 | £115,750 | 119.07% | £137,820 |
| HAPPY BOTTOM, BH21 3DP | Wimborne | £533,750 | £282,295 | 89.08% | £251,455 |
| DEAR LOVE GATE, PE12 9WB | Spalding | £134,000 | £72,690 | 84.34% | £61,310 |
| DATE STREET, SE17 2HQ | London | £296,623 | £170,564 | 73.91% | £126,059 |
| HOPE AVENUE, BL2 1LT | Bolton | £143,200 | £93,173 | 53.69% | £50,027 |
| SUNNY AVENUE, B12 8SG | Birmingham | £56,667 | £36,909 | 53.53% | £19,758 |
| KITTENS LANE, NR14 6JU | Norwich | £184,657 | £130,385 | 41.62% | £54,272 |
| SMILES PLACE, GU22 8BJ | Woking | £387,373 | £274,988 | 40.87% | £112,385 |
| FRIEND AVENUE, GU12 4QU | Aldershot | £206,777 | £152,105 | 35.94% | £54,672 |
| LOVE AVENUE, NE23 7BH | Cramlington | £88,958 | £68,102 | 30.62% | £20,856 |
| ENCHANTMENT OAKS, PE20 3DZ | Boston | £161,833 | £128,445 | 25.99% | £33,388 |
| KITTEN CLOSE, CB9 0PU | Haverhill | £184,822 | £147,905 | 24.96% | £36,917 |
| PUPPY GREEN, DY4 8UD | Tipton | £94,544 | £80,644 | 17.24% | £13,900 |
| KISSING BATCH, BA11 3ND | Frome | £171,867 | £152,584 | 12.64% | £19,283 |
| VALENTINE AVENUE, DA5 3HF | Bexley | £380,053 | £338,523 | 12.27% | £41,530 |
| KISSES BARN LANE, B79 0JS | Tamworth | £342,500 | £316,238 | 8.30% | £26,262 |
| NEWBORN AVENUE, DN15 8JZ | Scunthorpe | £59,980 | £55,406 | 8.26% | £4,574 |
| LOVERS LANE, NG24 1HZ | Newark | £71,883 | £67,538 | 6.43% | £4,345 |