Every month in the UK around 100 000 families move house. The majority of us, in fact, will swap homes seven times in our lifetime. At Bennet Removals, we understand that moving house can be an extremely frustrating, time-consuming, and anxiety-inducing process. From lack of planning to careless removal companies, there is a multitude of factors that can transform an exciting transition into a veritable nightmare. 
With this in mind, we've compiled a list of the most common problems associated with moving house and the best ways to solve them – with the help of advice forum Mumsnet! The majority of forum members asked for advice on choosing the perfect removal company and organizational tips. Others complained of family arguments and requested recommendations for pacifying unruly kids. 
The top ten problems most commonly associated with moving – According to Mumsnet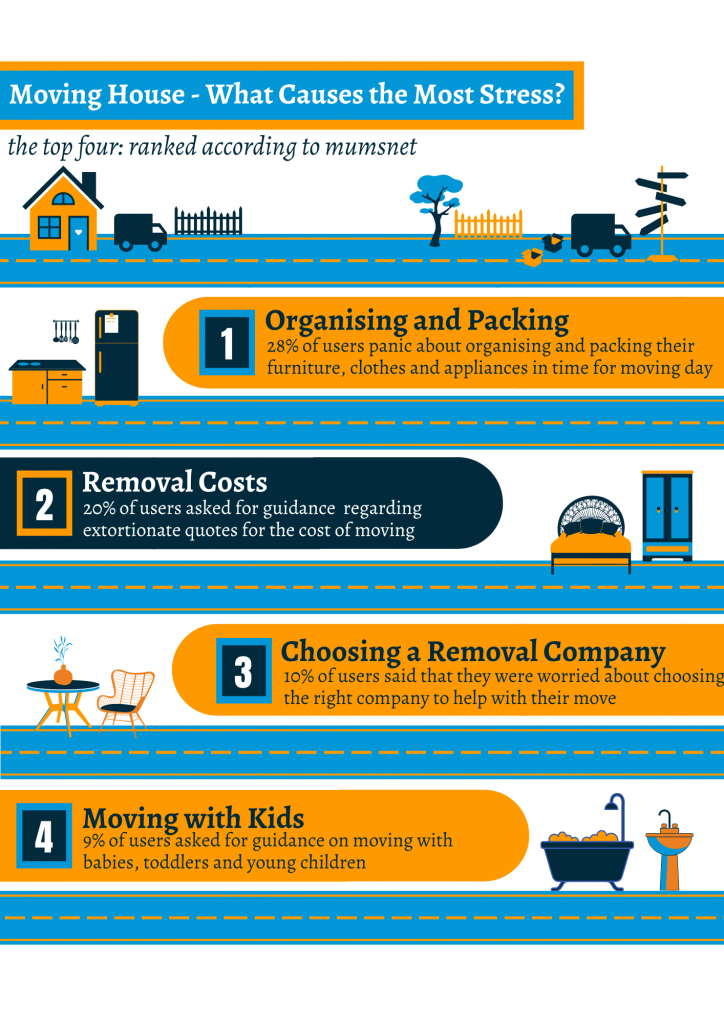 Data Breakdown
| | |
| --- | --- |
| Problem | Number of Forum Users |
| Organizing/packing  | 28% |
| Cost of hiring a removal company | 20% |
| Choosing the right removal company | 10% |
| Talking to children about moving | 9% |
| Managing family conflict | 8% |
| Pets | 7% |
| Messy movers | 7% |
| Protecting valuable possessions | 7% |
| Confusion over the moving process | 4% |
| Cleaning after packing | 3% |
Organizing and packing 
28% of users from our sample pool asked for help organizing their possessions prior to moving. Many lacked sufficient cardboard boxes, bubble wrap, and tape, and requested effective organizational hacks. Others complained of having very little storage space and admitted finding it difficult to move around the packing materials that had accumulated inside their home. 
Users responded by suggesting storage units but admitted that they might be too expensive for those on a budget. One user recommended using "translucent plastic crates", as these are easy to "stack and keep clean". "Number each box, and keep a record in a notebook", advises another user. "Write on all four sides of the box for easy access, even in cramped spaces. Keep a box of essentials". Boxes can be stored in the attic or a basement without the worry of forgetting what each one contains. Other users swore by packing services. "Leave it in their capable hands", they advised. "Beg borrow or steal the money, but pay for packers – they're worth EVERY PENNY".
Calculating the cost of hiring a removal company/choosing the right removal company
For 20% of users sampled, the cost of hiring a removal company was a significant concern. Some users reported extortionate prices for local moves and asked for reassurance that this was normal and that they weren't being ripped off. One user, who needed to move possessions to self-storage, complained that there were no prices displayed on the removal company's website. In response, another user suggested that they use Compare the Storage, which provides a rough estimate of the cost. The majority of forum posters recommended that, regardless of cost, families used a professional removal service to help them to move. One user cautioned that moving without professional help was "like hell on earth". "Ask around locally, and get quotes relatively early on in the process, so you can quickly book once (contracts) are exchanged", recommends another.
Our top tip: Quotes for movers will vary considerably based on location, distance moved, and house size. Make sure to compare removal companies before making a commitment. Check what each service includes. If you're panicking about the practicalities of moving, we recommend using a service that includes both packing and unpacking. Many removal companies will also include the price of packing materials in their quotation. Make sure to thoroughly read reviews and ask plenty of questions. 
Talking to children about moving 
9% of forum users admitted feeling anxious when contemplating talking to their child about moving, or ensuring that their child is comfortable with the moving process. One user said that they felt "scared that [their] children would hate moving and leaving their friends." Another user commented that their child "gets really upset" at any mention of potential change. In response, a poster recommended, "writing a social story about the change and reading it regularly". Another suggested presenting the change as a "done deal", with no possibility of compromise or further change. They also emphasized the importance of constructive communication, and of supporting children while pushing them out of their comfort zone. "Children find it easier to accept things they feel are inevitable than trying to make choices", advises another user. 
Managing family conflict during the moving process 
8% of users reported experiencing conflict with relatives and partners during the moving process. According to one user, her husband "actually had a strop" while they were searching for houses, and "doesn't understand that [they] will have to compromise". In response, sympathetic responders suggested that the user "disengage from frustrating conversations" and take a brief break from searching for a new home. Another user commented that searching for a new house was having a negative impact on their relationship with a partner and asked for tips on "how to get through the whole thing without killing each other".  Responders emphasized the importance of compromising and accommodation. One advised to "try and have as few non-negotiables as you can". "Non-negotiables should be really important things, not trivial or irrational prejudices."
Methodology 
We manually examined 100 Mumsnet posts associated with moving problems. We filtered forum posts by the keyword search terms "house move", "worried" and "advice", and noted down any factors causing stress during the home moving process. We tallied posts mentioning these factors, and converted our result into a percentage.