As of December 2nd, the government in England has confirmed that "the housing market in England will remain open in all three tiers. This means that people looking to move home will be able to both continue with planned moves and view new properties to move into in future. Estate and lettings agents, removers, valuers and people in sales and lettings offices and show homes will be able to continue working."
With that being said, there are still a number of things to consider if you are planning on moving home during this time, along with a list of precautions you must take to ensure the safety of you and anyone else helping you move.
For more information on how to move home efficiently, take a look at our top tips and hints here.
Viewing Property
Firstly, there are a number of noticeable changes when it comes to viewing property during the tier system in England. Many estate and letting agents are now offering virtual viewings of properties for anybody looking to buy or rent.
By doing so, this enables buyers and tenants to experience your home without physically visiting. Alongside this, these virtual viewings can convert better quality buyers by ensuring that only serious buyers physically visit the property.
Other estate and letting agents have put safeguarding procedures in place so physical viewings can continue as normal as possible. Some of these require occupants vacating their property during viewings and ensuring the property is thoroughly cleaned each time. Therefore, if you are planning to move, or are thinking about looking at property in 2021, you should be able to do so without little disruption as long as national guidelines are followed.
Preparing to Move
It's important to remember that the current situation with the Coronavirus pandemic is still quite uncertain, and because of this things could change within weeks or even days. Heading into 2021, things are still unpredictable which means the advice from the government is constantly changing.
In fact, the English government has "encouraged all parties involved to be as flexible as possible and to be prepared to delay moves, for example, if one of those involved becomes ill with COVID-19 during the moving process or has to self-isolate. It may become necessary to pause all home moves locally or nationally for a short period of time to manage the spread of coronavirus. We will let you know if this needs to happen."
In addition to this, it may happen that someone who is currently occupying the new home you are moving into has become ill with the virus and has to self-isolate, and because of this, you may not be able to move into your new home when you plan too. Because of this, we recommend having a back-up plan, so that you will have someone to live until such times that you can move again.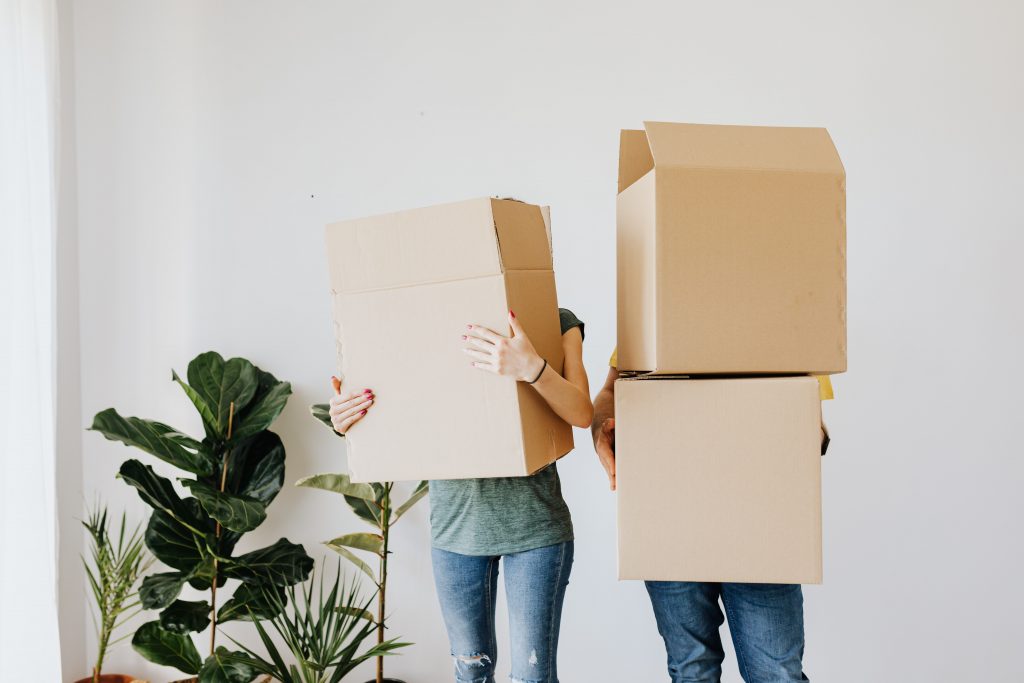 Read More: The Average House Removal Cost For 2020
Making an Offer
The current government guidelines state you are free to make or accept an offer or reserve a property as normal, however you must be aware that there's a greater risk that parties may need to delay due to the current situation.
Furthermore, before completing on a new home, or making an offer, it's a good idea to seek legal advice from your legal professional. As mentioned before, COVID-19 can cause sudden interruptions in your plans, so because of this, we recommend adding contractual provisions to your contract. This will protect you if you have contracted COVID-19 and have to self-isolate or if a member of the household you are moving into has to instead.
Moving Your Belongings
When it comes to the actual logistics of your move, there are a number of things to consider when moving your belongings. For instance, if you are thinking about using a removal company to help you move your belongings, there may be additional measures in place for the safety of both them and your household.
At Bennett Removals we have introduced new procedures that will make you move as safe as possible. For example, we are requesting customers wipe down door handles and surfaces prior to our arrival. We are also asking customers to wear face coverings when possible and maintaining social distancing rules at all times. We also want to limit as many visits as possible to your home, so we are working more effectively and efficiently to do this. Finally, we are also only allowing one member of our team to be in your home at any given time to limit close contact.
To conclude, in addition to what is mentioned above, it's also important to ensure that moving home and all the activities that come with it, can be done safely and whilst adhering to. Alongside the new rules in the tier system, you must also make sure that you wash your hands frequently, keep as much distance as possible from people who are not members or your household, and finally wear a face covering when in close proximity to other people.
All of these steps combined will ensure that your move is as safe as possible for everyone involved, and furthermore will help stop the spread of the virus, and get the country back to some sort of normality.
If you are planning on buying property this year, then you may be able to take advantage of the Stamp Duty tax holiday. Take a look at our full guide here for more information.